Unifi is the first protocol to integrate DeFi with node staking, a huge industry that is projected to grow even bigger as Ethereum and other projects adopt the proof-of-stake consensus mechanism.
Together with all the assets of its acquired partner, multi-chain staking provider Sesame seed, Unifi is now operating 6 blockchain nodes, with a combined $21.4 million in staked blockchain assets. 
Unifi's staking platform 'uStake' was made possible by this acquisition of Sesame seed, providing Unifi with all its staking nodes, most of the Sesame seed development team, and the $8.5 million SEED token market cap. 
Since this acquisition, Unifi has aligned all the nodes to its community-centered philosophy, providing all rewards generated by the nodes to stakes. Julian Brabon, the co-founder of Unifi, stated: 
"Unifi Protocol developing on our partner blockchains is just one level of investing into a community. We also believe running blockchain nodes is a great way to show those communities we support them, and we support the success of the network."
Further benefits are that UNFI token holders will govern the entire Unifi multi-chain ecosystem of platforms including AMMs, blockchain nodes, staking of UNFI tokens, and lending (under development).
Unifi announced the official launch of uptake on 29 September. The platform made the announcement on Twitter, where new and existing speakers were invited to check out the new website.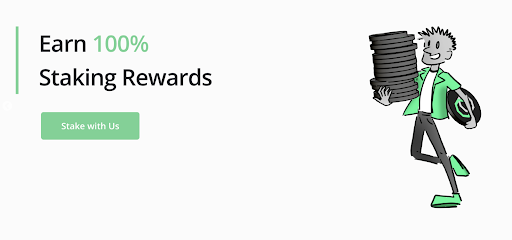 Ontology Staking
Unifi, by way of uStake, operates nodes on multiple blockchains. The most successful currently is the Ontology node. The Unifi Ontology node has gone from rank 50 to rank 42 in fairly short order.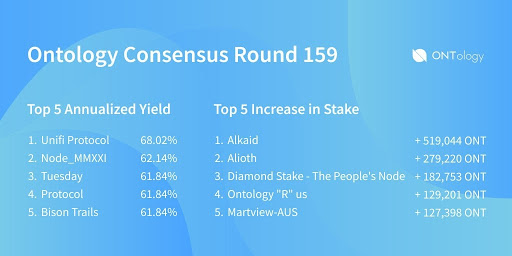 For community staking to happen, validators on Ontology must first stake ONT to their own node – known as self-stake. For each ONT self-staked to the node, that node can accept 10x the amount of ONT from the community as stake.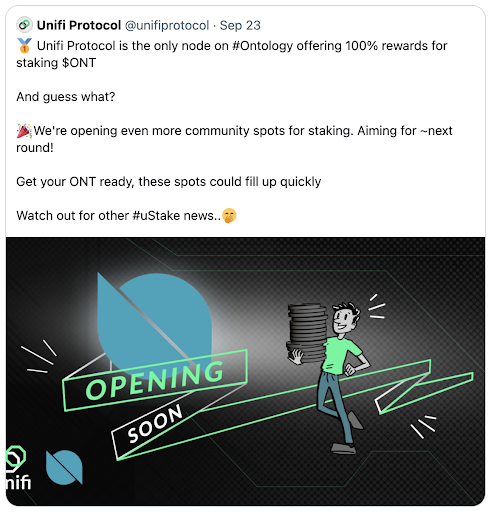 Unifi provides 100% rewards to ONT stakers for both the initial and user stake, which is a first, given that no other blockchain node gives 100% of the initial stake to users. This also creates a terrific APR in comparison with other nodes.

Unifi is currently offering the best ONT staking rewards on the network, with 100% of the node rewards going to the community, therefore the Unifi node is always full. In addition, whenever Unifi announces there is more staking space available, it fills immediately due to the high rewards.
Share this: